Nettie and Joseph L. Johnson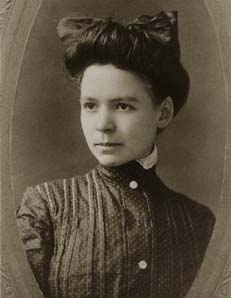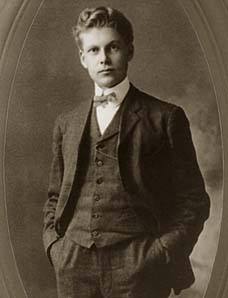 Nettie M. Norton and Joseph L. Johnson c. 1900
Joseph Theodore L. Johnson (b. July 9, 1878, d. February 17, 1956) was born and grew up on a farm on the prairie near Maynard, Chippewa County in western Minnesota. Joseph was a printer and would work 10–12 hours a day. His printing company (St. Paul Pioneer Press) had contract to print up the legislative assembly bills over night and he he would have to work all the night.
Joseph L. Johnson married Nettie Mirah Norton (b. March 6, 1883 in Itasca, Freeborn County, Minnesota, d. September 24, 1957 in St. Paul, Minnesota). The spelling of her second name is uncertain, another possible spelling: Maria. Nettie and Joseph married on Oct. 16, 1904 in in Fergus Falls, Minnesota.
Nettie's parents were Nelson R. Norton (b. July 15, 1852, d. October 18, 1918) and Aletta M. Dominick (b. July 20, 1854, d. August 18,1895). More about Aletta and Nelson Norton here...
Nettie and Joseph met when they both worked in a printing office of the local newspaper in Willmar, Minnesota. Before they got married Nettie worked in a print shop in Milnor, North Dakota. (Kenneth J. Johnson 2009).
The family had their home in St. Paul, Minnesota, USA. The street address was 1196 Jessie Street. All the neighbours were Swedes or Norwegians. (Ref.: Kenneth J. Johnson 2009)
Joseph T. Johnson passed away on February 17, 1956 at Mounds Park Hospital, St. Paul.
Children:
1) Theodosia Johnson (born about 1910, died two weeks old)
2) Theodore Norton Johnson (b. June 3, 1912). Theodore was pastor of Stratford Baptist Church, Malone, New York State. He married Verna Wilson. Children: Audrey and Joseph.
3) Kenneth Joseph Johnson (b. in St. Paul). Profession: Doctor of Medicine. Married Adele Cecilie Goetze (b. in Young America, Carver County), who was a nurse. They got four children. More about Adele and Kenneth here...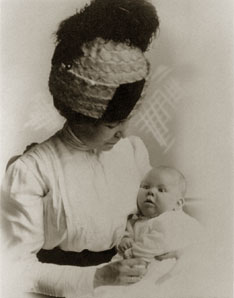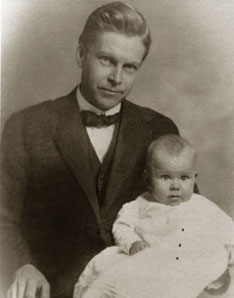 Nettie N. Johnson with Theodore Dec. 12, 1913.
Joseph L. Johnson with Theodore 6 1/2 months.
Mother's and father's favorites...
Kenneth was not real close to his father. HIs father missed his daughter Theodocia (died at two weeks) and was closer to Kenneth's brother Theodore. Kenneth however, was closer to his mother and he was her favorite. Kenneth and his mother talked a lot and confided to each other.
Nettie
Nettie was a strong christian. Later in the children's childhood, she took up church work (Baptist Church, St. Paul) as a church visitor to poor people and prospective members and often came home late. Nettie also helped the Spanish and Indian low-income people in St. Paul. She was very active and received many gifts from them when Adele and Kenneth got married; brightly colored crocheted work, etc.
Adele and Kenneth J. Johnson 1999
Joseph
Joseph was a deacon in the Baptist Church and a lodge member.«The lodge held occasional social events for their sposes and children. On this occasion the men were standing around in small groups making conversation. One said something to me, and being very shy, I moved to my father and put my arm around his pants, over his calf. They all started laughing. To see why, I looked up to discover that that was another man, not my father, whose leg I had embraced.» Kenneth J. Johnson, about 2000
My dad's strongest trait
At work in a printing company my father was the only one able to lay out sixty four pages of print on a printing press "bed" in such a way so that when a sheet of paper was laid on it and printed on, that sheet of paper could be folded and refolded and refolded, then has the top and bottom and right-sided edges trimmed. When opened up, there was a 64 page booklet, in correct numerical sequence pages, all pages right side up!
Kenneth J. Johnson, 1999
Guardian Angel
When Kenneth was a little boy he had a strange experience falling down steps. Kenneth tells himself, "It was an old house. The cellar stairs had no railing on the east side. The first half went to a landing and from the landing, the stairs went north to the basement. I started down these cellar stairs from the first floor and I tripped and rolled head over heels down to the landing and then bounced down the second flight of stairs and landed on the basement cement floor. When I sat up, I wasn't injured but I looked up to te landing and there I saw what apparently was an angel, because it didn't look like any of the pictures. It was a short person, as tall as a kid, five or six years old kid, and it was brown-colored – and he was looking at me." You weren't scared about that? "No, not a bit."
Kenneth J. Johnson, 2000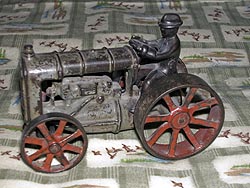 Kenneth's iron cast toy tractor from about 1920