Adele G. and Kenneth J. Johnson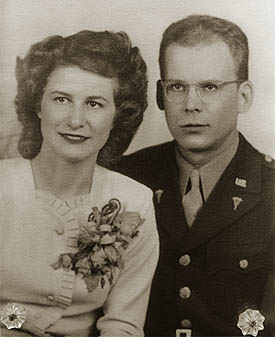 Adele Goetze and Kenneth J. Johnson,
wedding picture Dec. 23, 1944
Kenneth J. Johnson (b. in St. Paul, Minnesota, d. May 30, 2012 in Bismarck, North Dakota) married Adele Cecilie Goetze (b. in Young America, Minnesota) at Carlisle Barracks, PA.
Adele was born i Young America, Carver County, Minnesota. Her family moved to Waconia when she was two years old where she grew up. She was educated and worked as a nurse. Kenneth was born and grew up in St. Paul. More about Adele, her parents and ancestors here...
Kenneth was educated as a doctor of medicine and worked in a hospital.
Children


Adele G. Johnson with her four children c. 1955
Adele and Kenneth had four children, among them the daughter Xanthe, who married Jon Arne Storflor Sæter (editor of the Johnson Ancestry web site).
Children:
1. Boy
2. Boy
3. Boy
4. Xanthe (born in the1950's in Bismarck, North Dakota). Married Jon Arne Storflor Sæter). Read more about this family here...

Brushes with fame...
Adele and Ken were asked: "Looking back on your lives, what are your closest claim to fame?" Here are their answers:
Adele's fame: Minnesota Health Queen of 1937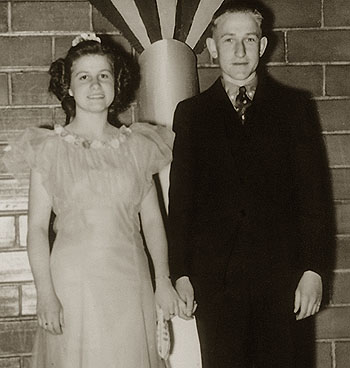 Prom queen Adele Goetze and prom king Lyle Henke 1937
In 1937 Adele Goetze of Waconia scored 98.7 points out of a possible 100 and won Minnesota 4H State Health Championship in a competition between 82 girls from 82 counties.
"When I grew up and as a youth I was active in 4H. In 1937 I became Health Queen because of my farming background and 4H activities as cooking, baking, and even acting in one-act plays. I did not grow up on a farm but learned a lot about farming on my uncle Willie's farm in Carver County. I used to go almost every weekend to this farm since my father had to fix machinery and we would help on the farm with most kinds of work. My father was especially interested in threshing and machinery."
Kenneth's fame: In the national newspapers
"Publishing several articles in medical journals on allergy, some of which were mentioned in national newspapers. Such as the importance of corn in food allergy, and the technique of cutting down the exposure to wind blown pollen, mold spores, and dust particles by erecting barriers and shelter belts."
Kenneth J. Johnson, 1999
Kenneth's education for doctor
Kenneth grew up in St. Paul. He attended Johnson High, Macalester College, and then the University of Minnesota. He wanted to go into zoology and got a zoology BA. In zoology there were no openings anywhere. His zoology teacher found him a teaching assistant at University of Minnesota graduate school of bacteriology and immunology. While he was taking his Doctor of Medicine (M.D.) degree at University of Minnesota, he took a Master of Science degree in Immunology and Bacteriology, as well as a minor in Physical Chemistry. He practized mainly in Bismarck, North Dakota.
Adele – the musician
"I really loved music but there wasn't enough money to go to college. I didn't have any background in music (except she played in a band). We couldn't afford piano lessons. I took some piano lessons after I was married and came to Bismarck. But at that time, when I was a child and was very interested in music, I had to teach myself and I had a few lessons. But I could read music better than the kids that took piano lessons because I had to play the hymns in church for the youth groups and so on. And I also played in a band and so on."
Adele G. Johnson 2000
Adele's education for nurse
Adele always wanted to become a nurse. She tells, "I had to stay home one extra year to get algebra or geometry or something because I needed that requirement for nurses training. And then I was accepted into nurses training in Minneapolis at St. Barnabus Hospital. I was also accepted at Swedish, but I liked the uniform better at St. Barnabus. They had cute little striped uniforms with pinafore and a cute little hat. And then wouldn't you know, when I got there, they had discontinued those. I was kind of glad because we had to wear black stockings. Can you imagine?
After I finished that year home, which was very depressing because I was wondering what was going to become for me. I wanted to get out of the small town and get an education. The Morovian minister actually helped me very much. He'd take me in for my interviews and helped me get my act together so I got into training.
There were three months where you sort and file and we went to the University to get our extra courses, at the University of Minnesota. We had to pass all those in order to get into the main training which was more hands-on, not technical aspects. The first day on duty as a probee (we were called probes, I don't know why), that was the day Pearl Harour was bombed, December 7th, 1940. I was so excited when I came off duty because I had brushed somebody's false teeth and emptied a bed pan. But nobody was listening to me because I was greeted with the news that war was declared. So from there on, it was an accelerated program. We worked 12 hours a day, four hours of classes in there, and just worked very hard because everybody was going off to work in the munition factories, and yet we were supposed to do everything ideally because the next morning the head nurse would examine all our work that we did the night before. So sometimes we only had about four or five hours of sleep. We worked the 11 o'clock shift and did not get off till 12, and then you'd have to get up at 6 o'clock to get back to work at 7. This went on for three years. I don't know how we did it, but we did.
I graduated from nurses' training from the Episcopalian-related hospital. The day we graduated, in September 1944, we were all worried about getting drafted. The last six months of our training, we were issued cadet uniforms. They had measured me very carefully. I got the uniform and it was two or three sized too big. It fits me now. We went to morning devotions and sang songs and then we'd go to work. I was always the organist. It was a pump organ – it was fun. Then we'd go to work and that would get us through the day. I think it helped, because it was very stressfull times."
Adele G. Johnson 2000
Adele and Ken meets in September 1944
Adele met for the first time the same day as she graduated as a nurse in September 1944, in a party among some graduated nurses at International Falls. Kenneth had just finished the internship in the hospital in Eloise, Michigan which is a suburb of Detroit. He was home in St. Paul for just a few days and was in military uniform. He met Adele that party evening and had some few dated with her the days after. He was preoccupied and worried about going off to war those days. Some days later he had to leave for Georgia for further doctor's training. Adele and Kenneth corresponded almost daily by letter while he was in Georgia. In December he was moved up to Carlisle, Pennsylvania for the final doctor's training. He invited Adele to come out there. She was working in a hospital in Minneapolis.
Adele tell what happened, "I thought, 'Okay, I'll go out there.' I had to take the train because he couldn't afford flying. I bought him a Christmasgift, a $15 pen. I thought, if he isn't serious, I'm not going to give him this pen. I got to Carlisle and by golly, we decided we were going, well, first he just wanted to be enganged. I said, 'If that's the case, I have to go in the service because they're going to be drafting us.' He didn't want me to go in the service and I thought, you have nothing to say about that. I don't know if that pushed him over the line, but he finally asked me to marry him. Better to marry me and make me an honest woman than to have me go in the service. So we decided to get married."
Wedding in December 1944
Adele and Kenneth wanted to get married by Kenneth's brother who was a minister up in Connecticut but there was a 5-day waiting period out there and they didn't have that much time. So they got married on December 23 1944 in a small chapel in Carlisle, Pennsylvania in the Army barracks chapel at Scofield. The methodist minister married them. There were only about five people there – the minister, the janitor, the organist, and another couple, classmate medical doctor friend of Kenneth's with his wife.
«I couldn't find a wedding dress as the war was on. There was just nothing in the stores. It was pre-Christmas, December 23. So I just finally found a yellow dress that got braided into a rug by my mother. The story was it was a Saturday and nobody was open to take a picture. Ken and I were walking on the streets of Carlisle and one of the photographer places had a door open. We went in and he took our picture. Otherwise, we wouldn't have had a picture of our wedding.» (Adele G. Johnson 1999)
Then Adele and Kenneth went to Connecticut to visit Kenneth's brother, Theodore, who was a Baptist minister there. From there on, Kenneth was shipped around and shipped around.
Adele joined him at Hawaii after the war was over. She was able to only because Kenneth had checked to make sure a position for nurse was available. (It was extremely hard to get to Hawaii then.) She flew on an Army plane with general's wife, etc. Then she worked at Kauikeolani Childrens' Hospital in Honolulu. That city is a few miles from Schofield Barracks when Kenneth lived on that Army post. He took a bus to Honolulu to see her. Later he secured a cottage in Shofield, with great difficulty because of Army red tape, so thay could live together.
Kenneth's memories of World War II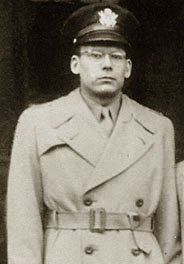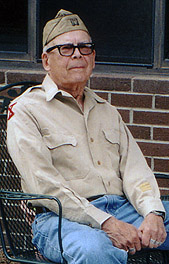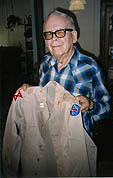 Kenneth in uniform 1944 (or 1945) and 60 years later in 2004. It still fit! Photography in 2004 by Jon Arne Sater.
"Do you have any memories of Word War II to tell?"
"I serviced in the Medical Corps of the Army of the United States, first as a second lieutenant, then a first lieutenant, finally as a captain. The climax was being in combat on Okinawa, for which I was awarded service ribbons including a little bronze star. I have written up many specific adventures of mine during those two years of the service."
Kenneth J. Johnson, 2009
Ornithologist since 4 years old
At the age of about four years Kenneth had his first ornithological adventure. This interest he kept for his whole life. We let Kenneth tell himself:
"It was long before I was old enough to go to kindergarten. An older little boy invited me to go with him on a walk of exploration. We were gone a good part of the day, on a long, long walk. At the end of our journey we saw a yard where there was a pen a little over a foot high, shaped like a miniature A-frame, bottomless and movable. Each slanted side of the "A" was solid wood; each end of the pen was open with horizontal narrow slats some 1 1/2 inches apart. Inside was a brown mother hen. Her chicks roamed freely in and out of her pen. I stood entranced.
When we finally returned to my house, there was my frantic mother, who had called the police to help find a lost little boy. In retrospect, the mother hen, who seemed to me to be so far a way, lived only two blocks away!"
Kenneth continued birding all his life, during which time he traveled and camped in all fifty states and ten Canadian provinces. During World War II, including combat in Okinawa he observed birds whenever feasible. He has written about birds in Senior Lifestyles and Birdwatcher's Digest, and written monthly the Birds column for the Bismarck Tribune, North Dakota. He has done 82 Breeding Bird Surveys for the U.S. and Canadian governments.
Travelling all over North America for birds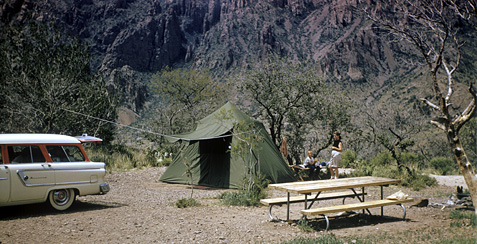 Adele with son camping in Big Bend National Park, Texas, in 1957. Photography by Kenneth J. Johnson
Although I had been an outdoor girl all my life, little did I know when I married handsome Dr. Kenneth J. Johnson in 1944 what I was getting into. After his Army combat duty we were able to spend the last nine months of service in Hawaii together, where I got a job in a children's hospital as a nurse. Ken was at Schofield Barracks in Oahu, Hawaii. It was there I discovered he was an avid bird watcher all his life. So after that, all travels and destination involved national parks, national monuments,
state parks, country sides, neighborhoods, back yards and ends of the road, looking for birds and certain species to add to his life list, study and document.
Adele G. Johnson, 2005
Author of three books – the first at 89 years of age!
In 2005, 89 years of age, Kenneth J. Johnson became book author debutant when his book "85 years birding" (208 pages) was published. In 2007 he published his second book: "Amazing, incredible birds" (367 pages). In 2009 came his third book: "More amazing, incredible birds" (481 pages). Around 2010 he completed the writing of his autobiography.
Maker of train car miniatures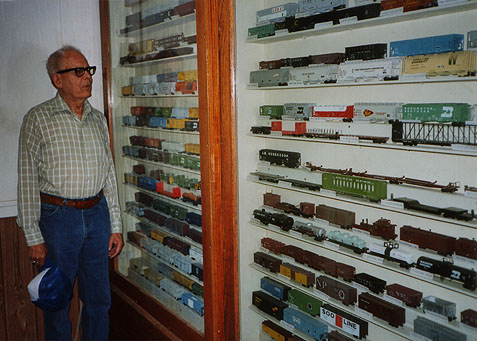 Kenneth J. Johnson by his car replicas at North Dakota State Railroad Museum. Photography by Jon Arne Sater.
Kenneth did for many years of his adult life make exact minitiature replicas of grain cars from private grain elevators and railroad companies. He made them on the basis of studies in the field when his family was travelling all over the country. He drawed or pictured the cars on location and made the replicas at home. The car collection counts aroud 400 cars and was donated to North Dakota State Railroad Museum in Bismarck where they are displayed.
Old Johnson furniture "inherited" by General Custer...
Do you want to se some of the old furniture from Adele and Kenneth's ancestors you can visit General Custer's home in Fort Mandan, North Dakota. Adele and Ken donated the following furniture to the museum which is sitting in the reconstructed home of Custer there:
1. Love seat, wooden, with red velvet upholstery, dated 1890.
2. Walnut wood rocker on platform, with gold velvet upholstery.
3. One and one half gallon silver coffee pot.
4. Maple-wood hutch with glass door, and fancy covering on top, with glass doors above and two drawers plus two doors below; dated 1890.
5. Eight feet by ten feet size braided wool rug, made by Grandma "Lottie" Goetze (Adele's mother); dated 1950.
6. Double size walnut spool bed, dated 1900.
7. Walnut hutch from Grandma "Lottie" Goetze, with three drawers below mirror and two small drawers on top; dated 1890.
8. Old hanging glass shade with crystal droplets, made to hang on a kerosene lamp.